Images and Videos of IUanyWare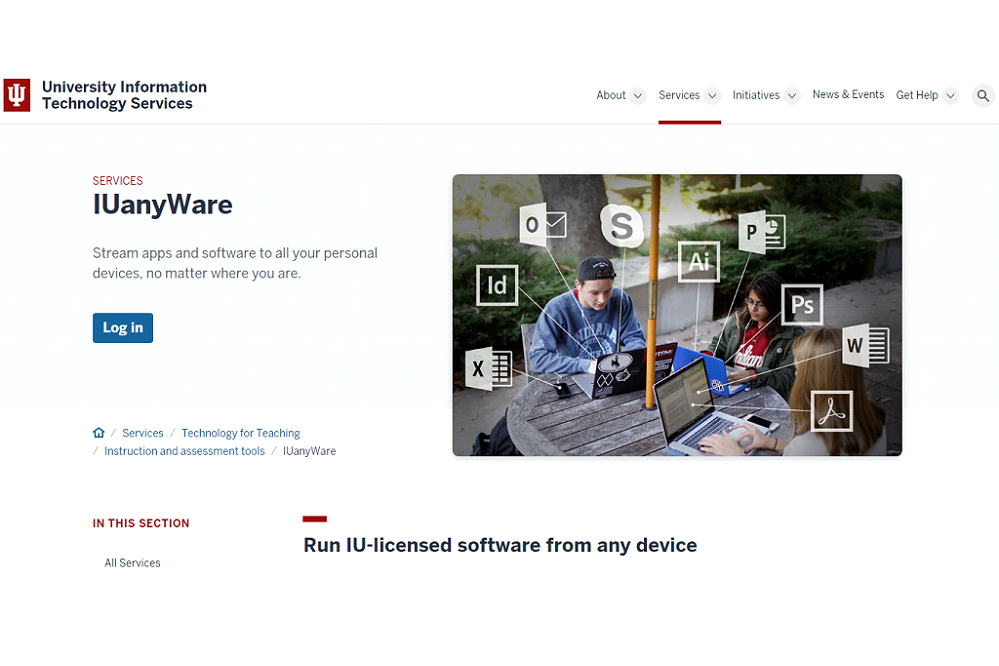 About this Tool
IUanyWare is a service available to all staff, faculty, and students at IU. No matter where you are or what device you're using, you can stream the IU-licensed apps, software, and even desktops you need, all without having to install or download each one or use a VPN. This is particularly useful to give all students equal access to technologies needed in a class since some may not have computers powerful enough to run the software package or might be unable to install the software.
Key Features for Teaching and Learning
Provide equal access. Regardless of the type of personal device they own or have access to, IUanyWare gives your students equal access to software and technology needed in class.
Access files anywhere. Cloud storage gives you and your students access to Microsoft SharePoint, Google Drive, or shared department files when you authorize them to appear using cloudstorage.iu.edu.
Connect to resources on the IU Network. IUanyWare places you on the IU Network when using apps and desktops without the use of connecting to the VPN.
Keywords
Categories
Similar tools
Availability
This tool is available for

Faculty

This tool is available for

Staff

This tool is available for

Students

This tool is not available for

Guests
Available university-wide, across all campuses
Cost
Privacy, accessibility, and other information